Alanya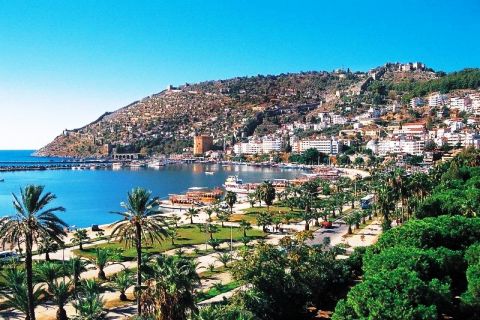 Alanya; one of nature's most generous regions located by in front of the Toros mountains by the Mediterranean Sea and the hub of many civilizations throughout the centuries
Located on a peninsula reaching into the in the Mediterranean Sea, the holiday resort is a typical southern town with stunning nature and ancient history.
According to research conducted in the Kadiini cave, the history of Alanya which was situated between Pamphylia and Cilicia in ancient times reaches back to 20000 BC.
The town was one of the major centers of the Roman, Byzantine, Seljuk and Ottoman empires and had served as an important fortress. The Red Tower and Alanya castle, recognized as symbols of the town were built in the Seljukian period to protect the growing importance of the region.
Apart from its numerous large hotels and resorts, the sunny town makes also a strong impression with its boutique hotels. Thanks to the Mediterranean climate of the region one can taste many natural products and tropical fruits such as avocados and bananas.
Eco-Transfer.com

offers:
"

Lowest Price Guaranteed

*

"

Private Transfers from

"

Antalya Airport to Alanya

"
"

Lowest Price Guaranteed

*

"

Private Transfers from

"

Alanya to Antalya Airport

"
*Pls Check Home Page