Kemer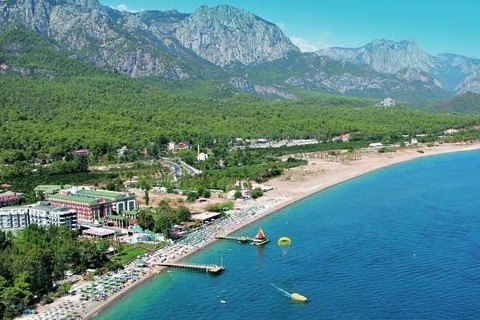 Kemer only 42 km. south of Antalya, is an important tourism center with many hotels with a large capacity, holiday village and modern marina.
The name has been given to the city of Turkish word for belt, due to the fact that the river that flows through the Kemer, looks like a belt.
Only 20 years ago, it was charming Mediterranean village with two to three story houses lost among orange groves, facing the pine forest of the Toros Mountains.
Tourism dominates Kemer. In the cool evening hours, the town's streets bustle with visitors and local alike, whose mill about the shops and coffeehouses.
Bars and nightclubs, where mostly one or two entertainers perform, come to life.
The most attractive characteristic of Kemer is its natural beauty, with many parks, and orange trees can be found everywhere..
Sea, forest and mountains intersect at a point. It is very attractive to see the clarity of the sea, green color of the forests; sea's reaching out the pine trees, pine trees used as sunshades at the beaches.
Kemer has a long pedestrian with shops and eating places. The streets are wide, well maintained and full of trees and flower beds.
Eco-Transfer.com

offers:
"

Lowest Price Guaranteed

*

"

Private Transfers from

"

Antalya Airport to Kemer

"
"

Lowest Price Guaranteed

*

"

Private Transfers from

"

Kemer to Antalya Airport

"
*Pls Check Home Page