Bodrum Central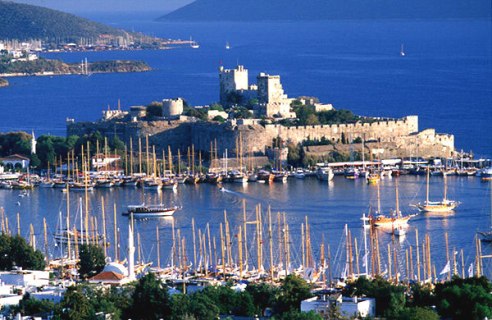 Bodrum

is the most cosmopolitan and almost certainly the best known of Turkey's resorts.
It first became popular with artists, musicians and actors in the 1960s and '70s and quickly established a reputation as a bohemian party capital. Whilst nightlife is still a huge draw, these days Bodrum has re-established itself as Turkey's capital of chic, home to boutique hotels, stylish bars and elegant eateries.
Despite its popularity, Bodrum retains a unique charm and relaxed ambience. It is exceptionally striking, its dazzling whitewashed houses draped in cascades of bright pink and purple bougainvillea. Narrow streets wind down towards the sea and the formidable Castle of St. Peter dominating the resort's twin bays. The town is overlooked by the remains of the ancient city of Halicarnassus, once ruled by King Mausolus, whose grand tomb or Mausoleum became one of the Seven Wonders of the Ancient World.
Bodrum was the birthplace of the famous Blue Cruise, the route plyed by the traditional wooden sailing boats known as gulets, and is still the yachting centre of Turkey.
Eco-Transfer.com

offers:
"

Lowest Price Guaranteed

*

"

Private Transfers from

"

Bodrum Airport to Bodrum

"
"

Lowest Price Guaranteed

*

"

Private Transfers from

"

Bodrum to Bodrum Airport

"
*Pls Check Home Page