Calis Beach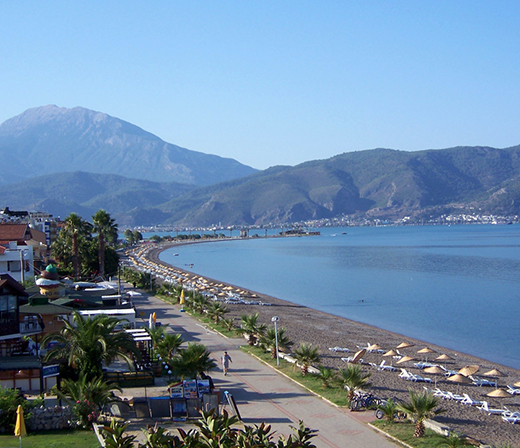 Calis is one of the most popular tourist area of Fethiye. With its 4 km long sandy beach.
Beach side is full of nice restaurants, pubs, bars and hotels. The small street with local shops becomes colourful in summer nights.
Calis beach is known as the best place to watch the sunset. The view from beach is fascinating during sunset over islands. The average temperature in July and august is 32 degrees. During winters weather gets cooler but not so cold with an average temperature of 10-15 degrees.
Calis has its own atmosphere. Beside regular minibuses which goes to Fethiye centre, there are Water Taxis which is a small motor boat goes to Fethiye centre. There is a small natural park full of different birds called "bird heaven".
Calis is also known with the wind surfing. Area has a nice breeze which keeps you cool in hot summer days and nights. That breeze also makes the area one of the popular windsurf and kiting place. There is a school for windsurfing and kiting to make your holiday more colourful
Eco-Transfer.com

offers:
*Pls Check Home Page