Datca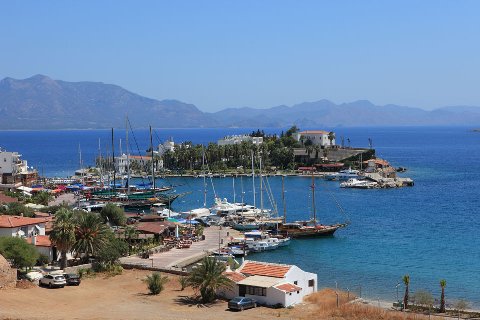 Datca is one of the most popular spots on the celebrated Blue Cruise route, it has grown to be a chic, cosmopolitan resort. There is a good choice of restaurants serving the very best of local produce along the natural harbour.
The resort is delightfully uncrowded and the surrounding landscape, which is punctuated by the occasional tiny, whitewashed village and flanked by sparkling turquoise-hued coves, is simply breathtaking.
Nearby beaches include the pebbly Taslik beach and the sandy Kumluk. Azanli, which is about 10km away, is famed for its magnificent coastal views and cove and is a favourite for local windsurfers. The crystal clear waters mean all are perfect for swimming and snorkelling.
In recent years Datca has become popular as a windsurfing and kitesurfing spot.
A wander through the streets of Datca old town known as Eski Datca is a must, and you should visit the nearby ruins of ancient Knidos too. They are set on the peninsula overlooking the sea, where an agora, theatre and temples to Aphrodite and Dionysus have been identified. The city was famous for its beautiful statue of Aphrodite by the famous ancient Greek sculptor Praxiteles.
During the summer months, a ferry service operates between Datca and the popular resort of Bodrum, ideal for those wishing to make a day trip.
Eco-Transfer.com

offers:
"

Lowest Price Guaranteed

*

"

Private Transfers from

"

Dalaman Airport to Datca

"
"

Lowest Price Guaranteed

*

"

Private Transfers from

"

Datca to Dalaman Airport

"
*Pls Check Home Page