Gocek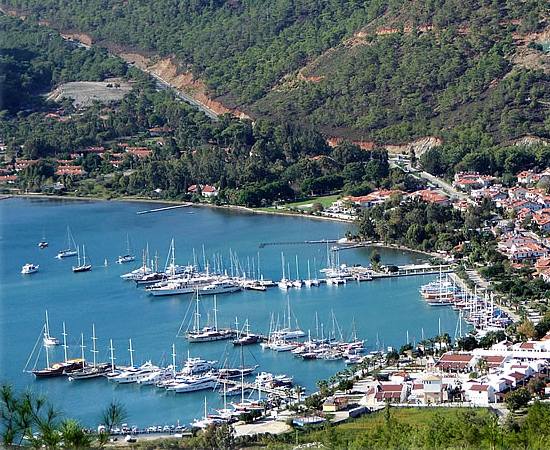 Gocek hosts six significant marinas that serve the yacht tourism in the region: Club Marina, Skopea Marina, Municipality Marinas, Marinturk Gocek Village Port, Marinturk Gocek Exclusive and D-Marin Gocek. A prominent characteristic of the town is the fact that it harbors islands and coves located in a large and secluded bay. Owing to its location, it naturally enjoys a high potential for yacht tourism. Gocek has all the necessary infrastructure, capacity, and amenities expected in a tourism center, yet it is renowned as a much more peaceful and quiet settlement than some other tourism areas.
Gocek coves and the 12 islands, which are described as a hidden paradise, with clean Mediterranean water, green pine forests, and beaches, have rendered Gocek an indispensable destination for seafarers. High-quality boarding facilities, daily boat tours, entertainment facilities on the seaside, and numerous nearby beaches and coves provide various alternatives for local and international tourists traveling by road to spend their vacations. There are many restaurants, cafés, and bars on the promenade.
The gulf of Gocek and Fethiye provides many opportunities to visit cultural sites as Caunos, Telmessos, Fethiye Museum, Tlos, Pınara, Letoon, Xanthos and Patara.
Eco-Transfer.com

offers:
"

Lowest Price Guaranteed

*

"

Private Transfers from

"

Dalaman Airport to Gocek

"
"

Lowest Price Guaranteed

*

"

Private Transfers from

"

Gocek to Dalaman Airport

"
*Pls Check Home Page