Icmeler (Marmaris)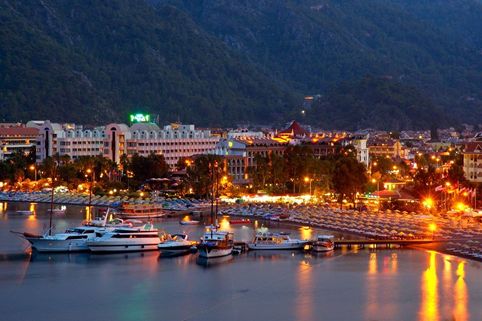 Icmeler is a popular Turkish holiday resort situated 8 kilometres from Marmaris. The town is surrounded on three sides by pine forests. Hiking on the mountains provides fantastic views of the region and is very popular.
The town has developed rapidly over the last 15 years, accommodation and other tourist facilities mushrooming across the formerly sleepy fishermen's and sponge divers' village. As a side to the increasing tourism, this village in the Turkish Riviera is seeing an increasing amount of watersports facilities, such as; scuba diving, waterskiing and many others.
The town developed on the back of tourist seeking a quieter alternative to the overdeveloped Marmaris, many who return annually.
Nightlife is rather scarce in Icmeler. Restaurants and pubs usually feature live music, shows and acts until around midnight. After this time, the only entertainment available is generally the nightclubs. Many tourists enjoy the variation in entertainment, starting in the restaurants in the early evening, moving onto the pubs and mini-discos until midnight and then followed by the nightclubs anywhere up to 4am.
Eco-Transfer.com

offers:
*Pls Check Home Page