Sarigerme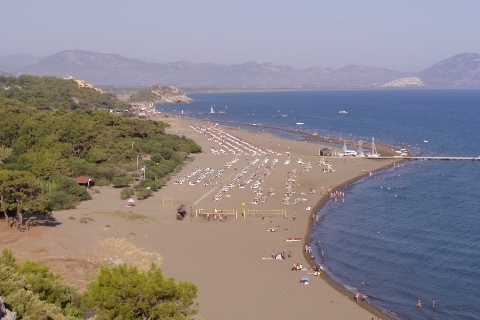 Sarigerme is not your typical over-commercialised , tourist holiday destination; in fact it is far from it. Situated on the Mediterranean Coast, the beach of Sarigerme and the tiny village of Sarigerme (osmaniye) provides a insight into the real, cultural Turkey and the beauty and traditions that come along with it. There are no detailed maps of Sarigerme as it is really small village yet despite its size this small place it has so much to offer.
The golden-sanded beach stretches around with its seven kilometres of coastline and the clear blue sea offers visitors much choice when it comes to adventurous water sports
There is a main street which has boutiques, restaurants and bars but the main attraction has to be the very attractive sandy beach which hosts water sports, sunbeds and has a shady wooded picnic area as well as a cafeteria.
Osmaniye Village,remember -Sarigerme is the name of the beach not the Village, It is very quite during day time as most Tourist are having fun around the pool or, are away on Excursions like Daily Boat trips or Jeep Safari.
Eco-Transfer.com

offers:
*Pls Check Home Page